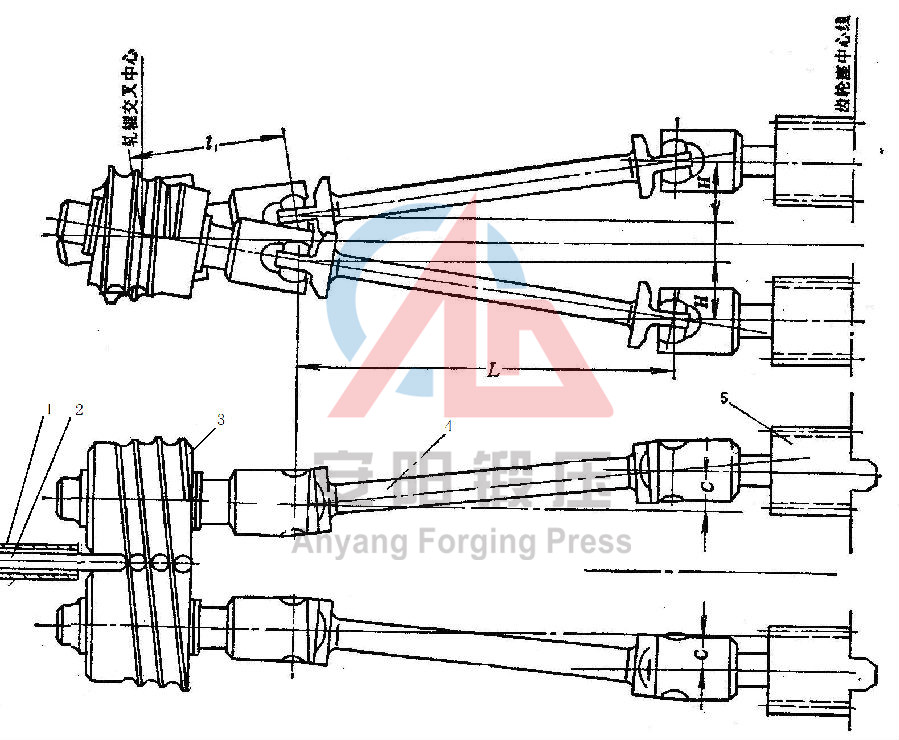 【Introduction】

Steel Ball Skew Rolling Machine is specially designed for the grinding steel balls of different materials such as medium carbon steel, alloy steel etc, which is widely used in the field of mines, gold, copper, bauxite, iron ore, aluminum ore, nonferrous non-ferrous metal ore, metallurgical and mining, cement, thermal power, flue gas desulfurization, magnetic materials, coal water mixture, pellets, superfine powder, slag, fly ash, calcium carbonate, quartz sand etc industries grinding ball or rod miller etc. Equipped with conveyor system and heating furnace, can realize mechanization and automation production.
Automatic steel ball skew rolling line without human intervention, automatic production, make sure the stability of the steel ball quality. This line production process contribute to environmental protection, saving energy but high efficiency. Steel balls have precision dimension, good roundness, high hardness and good mechanical properties and high impact toughness, strong crushing ability etc characteristics.

【Advantages of skew rolling machine】
1. Main body is with good rigidity.
2. Adjust is easy.
3. Locking is solid, high stability.
4. Easy to change guide plate.
5. Production is compete automation, high production efficiency, large output.
6. Low energy consumption, no pollution.
Besides above, Anyang steel balls automatic production line also has following functions:
1, Automatic control the quenching temperature, make sure the quenching quality.
2, Automatic roll fast rewind function, make sure the rollers be not damaged.
3, Automatic feeding function, improve the material utilization.
Anyang design the steel ball hot rolling production line is fully automatic production line, upto the latest levels of hot-rolled steel ball production.
Anyang design and manufacture series steel ball hot rolling production line, including ZQ20, ZQ30, ZQ40, ZQ50, ZQ60, ZQ70, ZQ80, ZQ100, ZQ120 etc complete size of steel balls miller lines, can produce φ 20 ~ 120mm different size steel balls.
【Advantages of rolling balls】
1、Good sureface and roundness;
2、Equilibrium Internal and external hardness(<5HRC);
3、Low broken rate, long working life;
4、High density, strong impact toughness;
5、High performance price ratio, cost saving is obvious.
【Parameters】
| | | | | | | | | | |
| --- | --- | --- | --- | --- | --- | --- | --- | --- | --- |
| Model | Unit | ZQ20 | ZQ30 | ZQ40 | ZQ50 | ZQ60 | ZQ80 | ZQ100 | ZQ120 |
| Steel ball diameter | mm | 15-20 | 20-30 | 30-40 | 35-50 | 40-60 | 60-80 | 70-100 | 80-120 |
| Roller diameter | mm | 170 | 220 | 260 | 300 | 340 | 450 | 600 | 690 |
| Roller angle range | ° | 0-5 | 0-6 | 0-6 | 0-8 | 0-6 | 0-8 | 0-7 | 0-7 |
| Productivity | pcs/m | 120 | 102 | 90 | 72 | 72 | 64 | 50 | 40 |
| Motor power | Kw | 30 | 40 | 80 | 130 | 185 | 450 | 650 | 1000 |